Pushing The Envelope with Iman N. Milner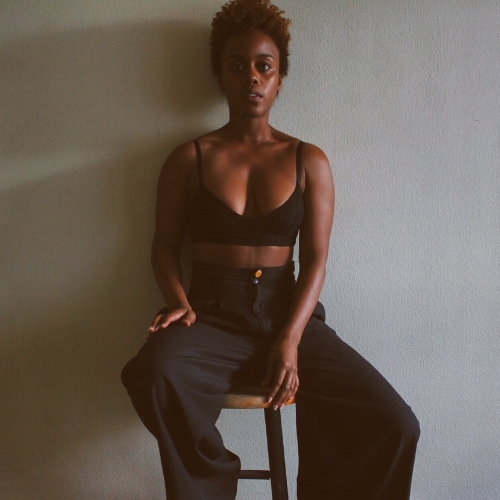 Interview by LaChelle Chrysanne
Actress, Writer and Producer Iman N. Milner, doesn't ask for permission. And rightfully so-- she doesn't need it. She didn't need it when she co-produced, co-wrote and starred in her own short film or when she wrote and self-published a book of poetry inspired by a really bad breakup. She didn't even need it when she wrote one of her first short stories as a child about an Elmo toothbrush. Beyond achieving creative accomplishments without asking for permission or waiting for someone to give her a big break, what stands out most about her is that in a world full of fame-hungry opportunists and Instagram clones she is her authentic self. An underlying attitude of living her truth shines through in the work she has done including writing about deeply personal experiences, creating a platform for women to celebrate the beauty of imperfection and pushing the envelope of what it means to be a Black actress in the rapidly changing yet persistently unsettled culture of Hollywood.
UC: You've been a part of a lot of independent projects such as Chef Julian on Black&Sexy TV and Awkward Black Girl. You've also produced and co-written your own short film Love Escapes Us which you won the Essence Black Women in Hollywood Discovery Award for. We're starting to see a lot of actors and actresses write and produce their own content, especially women of color who often are afforded the least opportunities in Hollywood. Could you tell me a bit about how that has affected the culture of auditioning for roles versus creating your own opportunities, how do you balance the two?
INM: Well I think it's hard to figure out what to put first. You definitely don't want to cut yourself off from any opportunities. Most of us have decided to create our own opportunities instead of waiting for people to get to know you through seeing you audition because there's no way to know if Mara [Brock Akil] sees your tape if you go in for Being Mary Jane or something. If you can make your own work and somehow get a platform like Essence to promote you or do what Issa [Rae] did with YouTube, you're able to put yourself in a position where people feel like they have something to gain from hiring you and that's something that you have to become comfortable with. I think it was Karen Civil who told me you're not of use unless someone can use you.
UC: That's so true.
INM: Everybody wants to have an even exchange. People may want to work with you because you seem cool or they see you've taken one of step for yourself so they're willing to now take the rest of the steps for you. You're not just auditioning, coming off the street and getting noticed like your Denzel's and Angela Bassett's. You have to have put in a lot of work and a lot of time on your own. Even the work of agents and managers is not as easy as it used to be. If you want to get a new manager or agent you really have to have done something already to even get that first step---but managers and agents are how you're supposed to get the work.. So you either sit around waiting for it to happen or you're gonna do something.
I think this part of the entertainment industry was kind of late on that. Rappers did that first. They can make a mixtape and its dope. When you already have a following, you can walk into a label and say 'you need to sign me because I already have 1 billion people who like my music'. With acting it's different because it's such a team thing. You can go and sit on Garageband and make a whole album whereas when you're shooting a movie or a TV show there's a lot of moving parts. You have to have either the money or the resources to get all those moving parts in order to make something. I was privileged in that way to be able to make something, to have resources and friends who were willing to show up for me. I recognize a lot of people don't have that. They're just figuring out how to do it from ground level and it's 20 times harder now than it used to be to do it from ground level. I think for any actor but definitely actors of color it's just a whole different ball game.
UC: Speaking of actors of color, as a Black actress specifically it's very easy to get typecast and it seems through working on independent projects you've been able to avoid this. You're working with people who are passionate about providing wider representation of Black people and Black women. For example, I really loved your character Yasmin on Chef Julian because she just had no fucks to give for anybody. But your character in Love Escapes Us is a completely different very emotional type of person. What are some of your favorite roles that you've played or what are some of your favorite types of genres to act in?
INM: I wanna do it all. I went to school for classical theater, I'd like to do that at some point. It's just very different now getting into theater on a level in which you can provide for yourself. When I first started getting work here it was mostly comedy. I did House of Lies and some Funny or Die stuff. I was Netflix's spokeswoman last year and that was comedy. I like ingenue type of things just because I don't think you get to see Black women like that a lot. Nia Long, Sanaa Lathan and Jada Pinkett got to be the ingenue women in films in the 90s. I don't really think we've had like a real resurgence of that.
"People are really comfortable talking about all the ways they could have overcome things and not very much interested in talking about what they overcame and I think that that does a disservice."
UC: You previously started a project Perfection is a Myth which was a website and community geared towards telling stories of women and their relationships with perfection. What led you to start that project and did it help with your own personal relationship with perfection?
INM: Well that's really what made me start it. With social media everything is just so polished. Everything is so neat and I like mess. I like women who dress like princesses and cuss like sailors. I think that shit is messy and life is messy and womanhood is messy and motherhood is messy. Sexuality is messy and religion is messy, all of it is not one-dimensional. Everybody wants to wear their makeup the same way or wear their hair the same way or dress the same and it's boring as fuck to me. I don't ever want to live in a world where everybody is the exact same way —I didn't grow up in that kind of world. There was Aaliyah, there was Brandy, there was Monica and there was Missy— there were all these women who were themselves and so anywhere you looked you could find somebody like yourself and relate to that person. It was the same thing with characters on TV. Yes, there were archetypal characters but they were all a little bit different.
I wanted to create a site where all the different kind of women who were dope and doing different things could talk about their mess and talk about how they've come to embrace their mess because that's basically what life is. You're literally waking up everyday and being like I am a fucking mess but that's cool this is my mess and this is what I do. I also was just worried for my little cousins because I don't want them to think that every girl has to look like a Kardashian or dress like Karrueche or whatever. You can dress like you and be dope. You can be 500 pounds and be dope and beautiful. You can have this much [*snaps fingers*] hair or all the hair and be amazing. You don't have to be famous or an artist or any of these things. You can be a teacher and have a really amazing story and be just as important as someone with five million followers. I wanted to create a space where women feel safe enough to talk about the real things. People are really comfortable talking about all the ways they could have overcome things and not very much interested in talking about what they overcame and I think that that does a disservice. I think that in transparency we're able to heal the people that we're speaking to and ourselves.
UC: I've noticed a common theme in your work from Perfect is a Myth, to your blog on your website where you write a lot of think pieces and your book "on breakups...and beginnings" is vulnerability and exposing ones truth no matter how uncomfortable that may be. Do you ever struggle with figuring out how much of your soul you want to bear? In what ways does exposing your truths help you as a person?
INM: I'm still trying to figure out how it helps me as a person. With the book I was just going through the situation and I just started writing. It really wasn't about writing to have a book at first it was just writing to get it out — in that way it's like I'm healing through it. The other part is if I'm going to create something, it has to be honest. I don't really know how to not be honest in art. I think if you're lucky enough to be a creator and have artistic abilities then you owe something to everyone to make it real.
UC: Let's go back to the beginning which creative medium did you gravitate towards first writing or acting?
INM: When I think about it, it was probably writing first. I started to write short stories when I was really young. I remember the first one I wrote was about my Elmo toothbrush. I remember my dad kept it in a frame, he thought it was so brilliant. I was like 7 or 8 when I wrote it. My mother just sent me this picture in mail, this is a picture of me in my first play. I was at the same age like 8 or 9 when I did this play and I just loved it. I fell in love with storytelling.
I would just make up these elaborate stories all the time like about anything. My parents asked me what I did with something and I would make up an elaborate lie. Instead of disciplining me, my dad would be like "write that down!". Then I'd write it and I would make it all crazy and flip characters. I think acting and writing kind of go hand in hand depending on what kind of writing you're doing. It's all about storytelling and giving life to something and figuring out the most creative way to do it.
We're having all of these conversations about the gender pay gap but we're not having a conversation about how the art is suffering from these things
UC: Let's shoot 60 years in the future and you're at the Cicely Tyson stage of your career. As a writer, actress and creator what kind of imprint do you hope to have left on Hollywood and in the culture?
IMN: Cicely Tyson is one of my heroes —her and Ruby Dee and so I would definitely want to have the impact that they had on me on all young actresses and just push the envelope of what's possible. I definitely want to look back on my canon of cinematography work and be proud --I don't want to have a lot of misses. I want to have a lot of work that I can be proud of even if it's critically acclaimed. I want to look back at my work and feel like I did the work that I wanted to do, I told the stories that I believed and played the characters that I believed in and I gave them my honest soul rendering of them. I want to kind of do what Marlon Brando did which is turn acting on its head and the way we approach it.
I would like to bridge the gap with creators. We have Michael B. Jordan but he's not working with people like Jake Gyllenhaal but he should because they both have something to learn from each other. Why is it a thing that Ava [Duvernay] is directing Reese Witherspoon? Reese should be elated to work with Ava, that shouldn't be a thing. Ryan Coogler should be able to direct an all-white film if he wants or a Bollywood film because he's great. And not because I feel we need to desegregate or anything like that or that our stories can't live on their own but I feel like we're having all of these conversations about the gender pay gap but we're not having a conversation about how the art is suffering from these things. I could give a fuck less about being paid 20 million dollars because people are always going to get their money but the art is suffering and you can't put a price on that.
I want to have those conversations and be a person who bridges that gap and moves through that, not as a token but as a real fucking person who's doing it. I want to be political like Ruby Dee and use my influence to do things like that. I want to have a school like Cicely Tyson. I want to have a production company and be able to empower other Black people and especially Black women to be able to make their own projects, any kind of project. I want to be like Quincy Jones, someone who has no barriers on his art. You want Thriller, you want Jazz ,you want music soundtracks, I got it. That's what I want to do that with my acting, the characters that I play and the movies that I produce. The Quincy Jones of acting-- that's what I want.
Iman can be found on social media at @imannmilner
Check out her work at www.imannmilner.com